The Philosophy of Dance Flow Control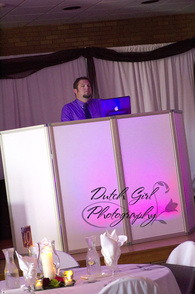 In life we all have our own philosophy on the things that we do and believe in.
As a DJ I am no different.

I consider myself to be more than a DJ. I don't come to the party with some songs, hit play and then make a few announcements. I consider myself to be a professional dance flow monitor.

I feel the energy from the crowd and keep the dance floor flowin' all night long. That might sound like the same thing but believe me when I tell you that there is a difference. How many times have you been at a wedding and felt that the DJ was just missing the mark with their song selections. Many times a DJ might know music but they think they know more than the crowd does. That is a mistake. I am there to make you happy and at no time do I put my personal musical tastes into the equation. I am not going to come to a party trying to prove how cool I am (although I am amazingly cool:) As a professional dance flow monitor I am in control of the energy of the event. I know when to slow it down, speed it up and keep the energy flowing. I pour my heart and soul into every event and promise to make this one of the best nights ever for you and your guests. Not only do I keep the dance floor flowing but I also work as a de facto wedding coordinator. I will work with your photographer/videographer/banquet hall staff to keep everything running smoothly.

This is a special day for you and all of your friends and family. I take this responsibility very serious and will always do everything I can to make sure everyone has a great time. Hiring a DJ is one of the most important parts of the wedding planning process. People may forget the table decor, food, etc. but they will always remember if they had an amazing time once the party starts. Let Dance Flow Control make this an amazing night for everyone!



---